The Samsung Fashion & Design Fund was launched in the autumn of 2005 in order to discover and recruit up-and-coming designers in Korea so as to help them fulfill their potential and thereby advance the Korean fashion industry in a systematic, practical manner. As such, the Fund represents the fundamental mission of the Samsung Group in general, which is to contribute to the advancement of humankind through recruiting and cultivating talents. As a member of the Samsung Group, Samsung C&T Corporation launched the SFDF in order to provide efficient and professional support for talents in fashion and design, just as other member companies of the Group provides assistance for talents in social work, environmental management, and cultural and artistic activities.
SFDF VISION
New cultures spring up and old cultures evolve around the world today, thanks to the continuing interaction and exchange among cultures and people. Fashion and design are not immune to these sweeping innovations. It has become much more complex and difficult to predict, compared to a century ago, when and where new trends will begin and how they will spread around the world. In this day and age, fashion worldwide is shaped not only by such pop stars and celebrities as Madonna, but also by nomadic girls on the Tibetan highlands and ordinary Parisiennes on their bicycles.
Therefore, the focus of the fashion industry today is not only how to generate a wholly new style and design, but on synthesizing diverse elements of different cultures and styles across places and ages in order to create a universally appealing style. We live a truly cosmopolitan age, in which all members of the humankind are capable of setting and following trends applicable worldwide.
South Korea, which has received a variety of cultural benefits and inspirations from around the world for over a century, now faces an increased responsibility to make increasing contribution to this cosmopolitan culture pot. Koreans now need to participate actively in the innovation that is taking place around the world, seeking to provide resources for more inspiring and fulfilling lives for the generations to come by enabling them to partake of wider and more diverse cultural experiences. Korea has unique aesthetic traditions and a well-defined system of aesthetic values that has been preserved intact over the centuries. There are also talented Koreans who are capable of sublimating these elements of Korean aesthetics into fashion.
The young leaders the SFDF have met are brilliant innovators who can ably and creatively synthesize the various inspirations and ideas they have received from their learning and living places around the world - New York, Milan, and Paris - with the elements of historical legacy and spiritual tradition they inherited from their parents' generation. The SFDF prepares for the next phase of the Korean fashion industry with these gifted designers.
SFDF ACTIVITIES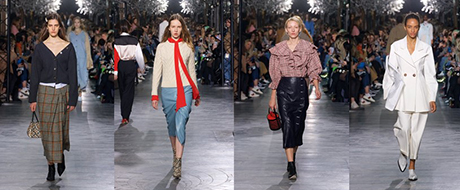 The fashion industry is a highly competitive, cut-throat world driven by fast-paced global changes, posing an ever-rising entry barrier for emerging designers. Many prospective designers, who should serve as the building blocks for a brighter future in the fashion industry, do not even stand a chance of rising up to the challenge and showing what they can achieve. SFDF aims to highlight such lesser known yet exceptionally talented Korean designers struggling to make their name in different parts of the world and to provide multifaceted support to help them grow and thrive.
SFDF, celebrating its fourteenth anniversary this year, has emerged as a highly trusted incubator and test bed for truly gifted designers, with many past SFDF winners continuing to make notable strides forward. In the long run, SFDF also plans to nurture talented individuals in various fields under the realization that the interaction with industrial design, architecture, interior design, and fine arts will further inspire and stimulate the growth of fashion.